Unit Crest and Shield
This following information on our Unit Shield and Crest was provided by former SSG Edwin C. Stewart, B Company, 1969-70.
Thank you!
34th Armor Heraldic Items
The distinctive insignia for the 34th Armored Regiment (light) was made official on June 22, 1931 under the provisions of paragraph 48, AR 600-40.
Our Coat of Arms
The Unit Shield and Motto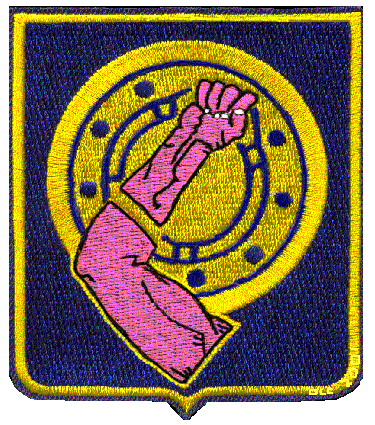 "Strong Arm of Victory"
The blazonry is as follows:
Shield: Azure, an arm embowed proper and couped at the shoulder raised and armed with a buckler or having seven rivets of the field of three and four.
The Buckler: (Shield attached to the arm) represents the Armored protective device. The Arm embowed is raised in the attitude of striking.
(This is as it appears on the documentation, the spelling is exactly as I see and read it.)
Unit Crest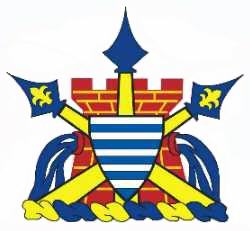 The red tower gushing water to each side alludes to the bitter fighting at the Roer Rivers dams, for which the Presidential Unit Citation was awarded.
The spears symbolize the advance through Normandy, northern France, and Germany.
The shield, bearing parts of the Coat of Arms of Luxembourg, represents the award of the Luxembourg Croix de Guerre for participating in the liberation of that country.
(The Crest was not "official" until sometime after 1958, based on the fact that it was not detailed within the 20 January 1958 letter from the Cameron Station Quartermaster's Activities letter that I have on file.)
Unit Metal Crest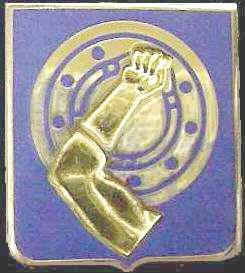 Worn on dress uniform epaulets
Vietnam War Years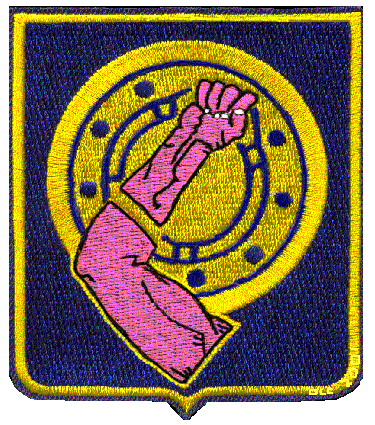 During the Vietnam War the Motto was unofficially "modified" to be
"Fear God - Dreadnaught"
Vietnam War Years fatigue jack patch and signage
This distinctive insignia (2nd Battalion of the 34th Armor) is the Vietnam War years unit patch / sign.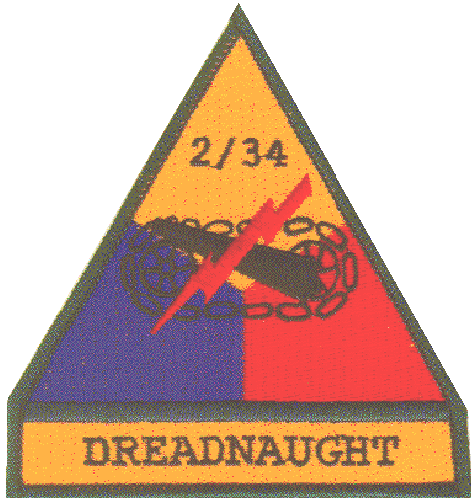 This is the patch the Association has and uses today.
This is the patch the webmaster sent to to his parents in February 1970. There are two things to consider about this patch. First of all, the "2" is very indistinct, as it came from the "mama san" shop next to the Tay Ninh PX . And second of all, the block saying "Dreadnaught" is not present. We knew who we were and so did everyone else! Everyone wanted us to be at their side or out in front !
Need to contact our Association President, Pat Forster? Click on the Letters below to send him an e-mail.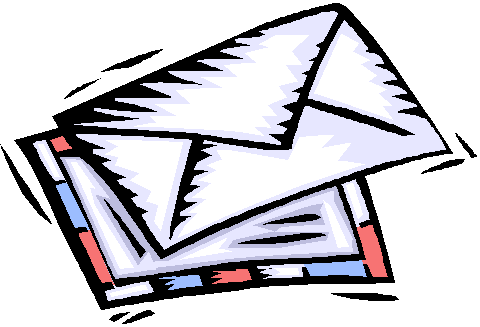 Creation Date: August 15, 2004
Last Modified: July 1, 2013
Copyright © Denny L. Cherry, 2010.